From classic family fun to date-night ideas, these 10 autumn adventures will help you make the most of the season.
This year, fall in Northeastern Ontario offers so much more than just a pumpkin spice latte to fulfil your fall cravings. Lockdown is over and guidelines are in place to make life safe — and fun — again, so go ahead and fully embrace the season! From outdoor concerts, pumpkin patches and the obligatory mazes to local farmers' markets and fall fairs, here's our list of ten events that will have you making fun fall memories in all the classic ways — and maybe discovering a few new ones, too. 
If you're planning a trip to see the fall colours throughout their peak, check out "Chasing Fall Colours Through The Seven: North Of Muskoka".
North Bay and area
Leisure Farms Pumpkin Patch Activities 
September 24th – October 30th, 2022
View this post on Instagram
Nothing says fall quite like pumpkin patches, corn mazes and fresh baked goods. Leisure Farms in Sturgeon Falls has you covered with a wide variety of pumpkins of all shapes, sizes, and colours. Events include bonfires in the bush, tractor rides, different mazes and many other activities for the whole family or group to enjoy.
And back by popular demand and for one night only is Adult Fright Night on October 15th!
Tom Green at the Capitol Centre 
October 14th, 2022
View this post on Instagram

;
Add some laughter to your season at the historic Capitol Centre in downtown North Bay with Tom Green; the multi-talented Canadian comedian, actor, director, and broadcaster who conquered the World Wide Web with his free-wheeling, wildly popular internet talk show, which has been credited with kicking off the podcast revolution. Green tours worldwide, performing standup comedy at sold-out venues and is also actively producing and directing content for the famous Van Life series on his youtube channel.
October 18th, October 22nd, October 27th, 2022
View this post on Instagram
In the mood for some autumnal arts & crafts? Join The Work Shoppe in North Bay for pumpkin lantern painting (registration required), a Halloween drop-in for kids to paint a trick-or-treat bag, and sew a mug cozy (registration required). 
Sudbury and area
October 1st – October 30th, 2022
View this post on Instagram
Experience 19 carved pumpkin sets displayed along a self-guided 250m outdoor Halloween pathway. The Pumpkinferno trail will be a 30–40 minute experience, with food and retail available within the Copper Cauldron located near the end of the trail. For 2022, three new sets have been added and a twist to the outdoor trail!
Make sure to book your entry time online before you go.
Other events include Strange Story Time, "Creep it Real" Science, Talon and Bark, Creepy Crawly Show, Glamour Spell, Glow and Tell, Careful What You Pan For, and Nightmare Fuel: The Science of Horror Films on October 20th. 
Fall Harvest Weekends at Wagonwheel Ranch 
October 2nd – October 30th, 2022
View this post on Instagram
For those with friends and relatives who are fall-loving fanatics, you can lovingly indulge their fall spirit at the Wagonwheel Ranch! Weekend admission tickets are available and activities include a wagon ride, bonfire with hot chocolate and marshmallow roast, petting farm visit, and a trip through the pumpkin patch.
The Great Pumpkin Hunt in Kivi Park
October 22nd, 2022
Fun for all ages! Join the hunt for 500 pumpkins hidden in Sudbury's
Kivi Park
. This year's Great Pumpkin Hunt, sponsored by
Lake City Realty
, runs from 11:00 am to 3:00 pm. Other activities include a scary s'mores station and spooky story trail walks. 
New Liskeard
October 2nd – October 30th, 2022
Open every weekend in October,
Craig Haven Farm and Garden
offers many activities to get into the fall spirit. Visit their pumpkin patch, enjoy wagon rides, explore the corn mazes, and warm up in their café filled with a variety of warm tasty treats! Pumpkins + wagon rides + mazes = Fall Family Fun Trifecta!
Manitoulin Island
October 16th, 2022
Starting in Kaboni, the Wiky Road Race runs all the way to Wikwemikoong, Thunderbird Park. Pre-register the whole family by October 13th. With 5 categories,  there will be prizes for the top 3 males and females in each one. 
Central Manitoulin Fall Market 
October 15th, 2022
This local market hosts over 50 vendors selling local fall harvest, crafts, fresh and locally made products, baked goods and much more. During this Fall Market you'll also be able to support The Manitoulin Pet Rescue through their silent auction. The Central Manitoulin Market runs from 10:00am to 2:00pm at the
Providence Bay
Arena. Stay for a walk on the
longest sandy beach
on Manitoulin Island!
Mythical Creatures Haunted Trail
October 29th, 2022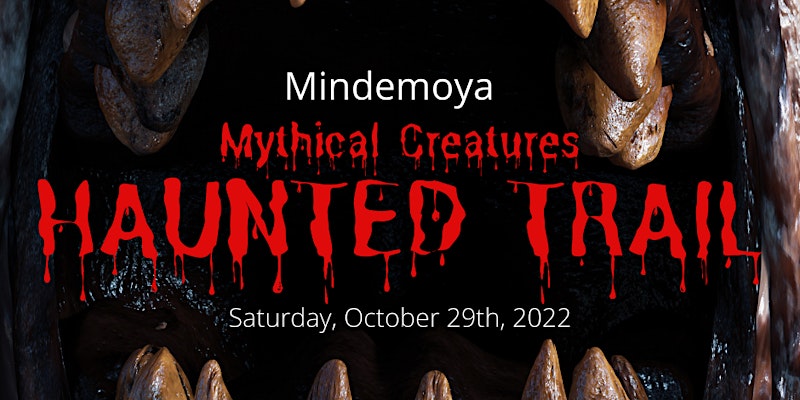 Wendigo, Mothman, Skinwalker, Chupacabra, and other mythical creature stories have been passed down through the ages. What lurks in the forest of the Pioneer Village in Mindemoya could be one of them or it could be something much more terrifying! For the younger ones in your family, check out the 6:00pm – 6:30pm and 6:30pm – 7:00pm time slots are they are generally less scary with the sun still in the sky.