This festival is gearing up again for its fourth iteration in "weird and wonderful Sudbury", and it's something that everyone needs to know about!
Up Here — Urban Arts + Music Festival is relatively new to Sudbury, completely different, and completely wonderful. It's quickly approaching (August 17 – 19), so read on and Passport-up.
Boasting a phenomenal line up of artist talent from musical acts to spoken word in both French and English, as well as a host of international artists and a great location, this festival has major appeal not only to millenials, but also to anyone interested in vibrant art-scapes, discovering new music, and exploring new cities.
Here are at least five reasons why we think that you need to know about Up Here, starting with:
1. The Artist Line Ups
From Friday to Sunday evenings, Up Here brings the vibrant talent of over 40 artists into some of the most interesting venues in the city. Look forward to performances by Patrick Watson, Charlotte Day Wilson, Venetian Snares x Daniel Lanois, and many more.
Venues include the Grand Theatre, Durham Social, the TowneHouse Tavern, and the Laughing Buddah, so you'll be rocking out in some great Sudbury locations.
As Sudbury resident, photography, and videographer Brandon Gray puts it, "The festival curates some of the best music programming a group of people with excellent music taste and a limited budget can buy." (Read that article here).
2. Pop Up Performances 

You'll want to download the official Up Here app, as it's the only way to find out about special, unannounced pop up performances that will be taking place during the festival.
Anticipate 7 to 9 pop up shows in new locations that you haven't been to before!
3. Downtown Urban Mural Art

In the four years since its inception, Up Here — Urban Art + Music Festival has done more than their fair share of beautifying downtown Sudbury, creating over 24 new murals. A major component of the festival is the local and internationally renown artists that come from all over to paint Sudbury, and liven up the downtown.
Take a walking tour of Downtown Sudbury to see what past artists have created, or stop by and say hello to the artists working on this year's five new larger-than-life murals on the streets of Sudbury. Visitors will look forward to displays from BirdO, PA System, Ben Johnston, and more.
In all cases, we're certain you'll find many Insta-worthy stops along the way.
4. Art Installations
It's not only wall murals – Up Here boasts a collection of many things that "go boop in the night". Inspired by the glow of the festival's now-iconic, 30-foot geodesic dome, keep your eyes peeled for large scale art installations around the city's core.
One project you'll notice as you travel around the downtown core is the Power Up Project – the result of a partnership between Up Here and Greater Sudbury utilities. Six utility box canvasses are granted to six local artists and complement the growing art-scape downtown.
5. Downtown Sudbury. Period.
During your time downtown, you'll want to explore a bit more of the area. Many shops, cafes, galleries and niches make up the fabric of downtown Sudbury and create a desirable, developing urban area to discover.
Coffee lovers will want to stop in for their daily cup at Salute, Old Rock, or Kuppajo; the last stop happens to be one of the festival venues. Each one has a great origin story so make sure to ask when you're there.
Shop for locally made products from Sudbury and beyond at One Sky Gallery, or pick up a unique article of clothing at Stitch and Stone, a Sudbury-local clothing store.
Try a wide variety of cheeses at La Fromagerie on Elgin Street or Urban Cheese on Larch Street. Alternatively, the Townehouse Tavern has a reputation for some of the juciest burgers in town, while the Laughing Buddha is known for tasty pizzas, a cute patio, and vegetarian bites.
The best part – this is just a sampling of what downtown has to offer.
6. Sudbury & Area Attractions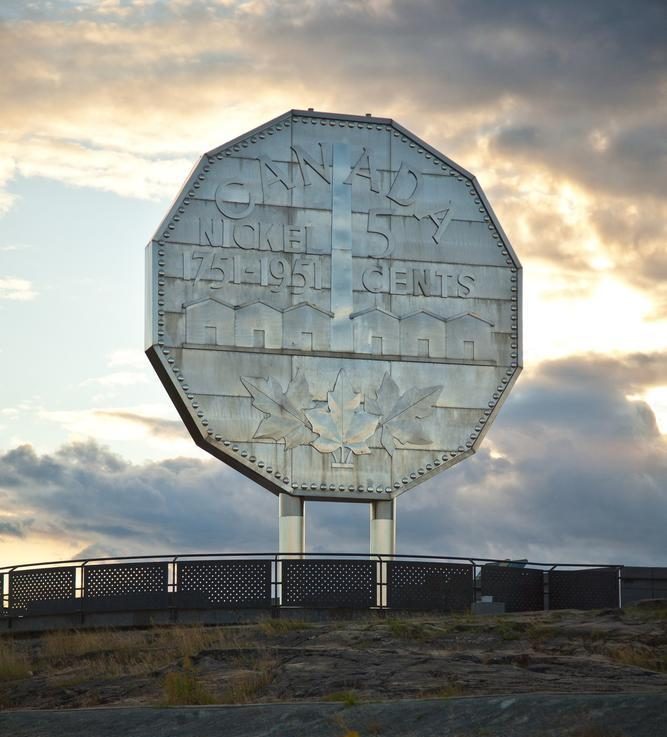 Come for the festival, stay for the many, many others things to see and do during your time in the City of Sudbury.
Known for its combination of urban attractions tied into the scenic, natural landscape, Sudbury has a beautiful waterfront and walking trail at Bell Park along Ramsey Lake. Bring a bathing suit and towel, as there are numerous beaches and swimming rocks along the trail.
The Laurentian Conservation Area offers a more rugged hiking or biking area, with up high views of Lake Ramsey for anyone looking for more of a workout.
Hop in the car and head out to Dynamic Earth for sunset snapshots with the world's largest coin, the Big Nickel, and then keep driving to Dinosaur Valley Mini Golf, for what is arguably the best mini-putt experience in the city.
—————
Follow Up Here on Instagram, download the official Up Here app for access to their many surprise pop up shows around the city, and purchase your 2018 Up Here Passport!