For more than 70 years, Mount Antoine Ski Club near Mattawa-Bonfield, Ontario was a favourite destination for downhill ski enthusiasts from across Ontario and the eastern United States. It's not hard to understand why. Nestled in the heart of the Laurentian Mountains, Antoine's well-groomed slopes offered both outstanding scenery and ample natural snow. The mountain's impressive 630 vertical foot elevation also enabled the resort to create a three-kilometre ski run – the longest in Ontario.
Unfortunately, aging facilities and a series of economic downturns forced the club to close its doors in the year 2000. For more than a decade, the ski lifts sat rusting and its famous runs were deserted. But recent good fortune brought new owners and sufficient financing to resuscitate the facilities! Now called Antoine Mountain to distinguish it from the previous ski club, the new resort opened its doors in February 2014 with 14 refurbished runs, a brand new state-of-the-art four-person chair lift, and a renovated chalet that can now accommodate more than 500 people. For the 2015-16 season, there are even more improvements to entice ski and snowboard enthusiasts back to Mattawa-Bonfield.
"This year at Antoine we are focussed on giving those who travel from Toronto, Sudbury, or North Bay the pure Canadian Experience," says Sarina Goad, Community Engagement and Social Media Manager at Antoine Mountain. "I'm talking about the snow, the view, a new terrain park, our Rossignol Experience Centre, the Après Café and our gourmet eatery!"
There are 30 Rossignol Experience Centres in North America and Antoine Mountain's new centre is the only one operating in Northern Ontario. "We are excited to participate in this great program that will help beginners gain more control and confidence, intermediate riders will learn to maneuver and carve, and advanced skiers will excel in all conditions. This is all about experiencing more control, more confidence, and more fun!" says Goad.
Sarina is equally excited about Antoine Mountain's brand new terrain park that will challenge and thrill snowboarders and freestyle skiers. "We started with the natural moguls of the mountain. Then we added new features and equipment that were purchased from a Canadian company, Coastal Jib, to help build a terrain park that is ideal for all levels of riders."
A day of skiing or snowboarding tends to work up an appetite and Goad is confident that guests will enjoy Antoine Mountain's renovated chalet. "The Canadian Experience doesn't end when you get off the slopes," she says, "We are bringing it inside to our cafe and eatery. Our signature cocktail menu includes our signature Caesar with a unique homemade spiced rim, maple whiskey beverages, and locally produced draft beer. In our eatery, stone oven pizza can be ordered by the slice or full pie. Another popular treat is our traditional poutine made with authentic Quebec cheese curds."
When the original resort closed, the tourism-based economy of the nearby town of Mattawa took a serious hit. As a result, local business owners have worked side by side with the new ski resort owners to make Mattawa a prime tourist destination again. "There is a very easy to use website, visitmattawa.travel, where visitors can get all the information they need to know about coming here," Goad says.
Compared to similar lodgings in southern Ontario, the motel room and rental cabin rates in Northeastern Ontario are very reasonable. The historic Le Voyageur Inn has 25 rooms in the heart of scenic downtown Mattawa. Its dining room serves traditional Canadian fare plus authentic Thai cuisine (Book That Package here). Only 15 kilometres away, Mattawa Golf & Ski Resort offers cottages overlooking the serene, snow-blanketed golf course. All cottages have a full kitchen and fireplaces to cozy up by after a day on the slopes. They also have a restaurant on site.
For visitors who like to try something a little more off the grid, there is Nature's Harmony Ecolodge, where guests can rent a solar-powered log cabin, an insulated winter tent, and even an authentic Mongolian Yurt complete with wood stove. In addition to unique lodging, Nature's Harmony offers more than 20 kilometers of cross-country skiing and snowshoeing trails, an inner-tube sliding hill and on weekends there are bonfires and hot chocolate.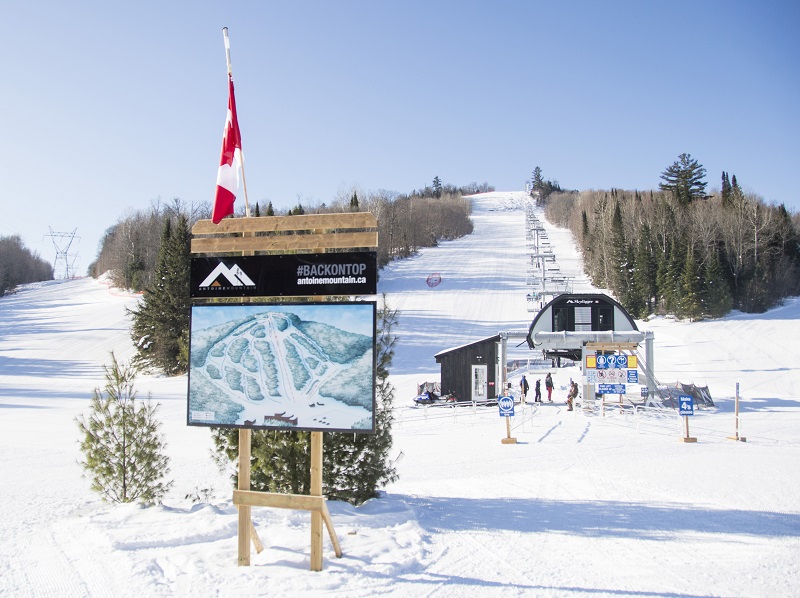 There are even ski hill/accommodation packages available that offer greater savings. The best accommodations fill up fast so anyone planning a trip to Antoine Mountain should book early to avoid any disappointments.
Mattawa-Bonfield averages 200 cm of natural snow a year. Weather permitting, Goad expects the ski season to start by mid-December. "We're hoping Mother Nature comes through with her usual white stuff but we do have snow-making capacity as well. Last year we only had natural snow and a lot of people commented that they really liked it because they had never skied on the real thing before. "