This is a story about two of the most important things in the world—love and real Italian food. Ten years ago, Chef Filippo Soriano left his native Montreal to visit "a beautiful lady" in North Bay. He not only fell in love with the lady, but with the stunning North Bay scenery that captured his heart. "I realized that everything I wanted was right here, except for one thing," says Filippo, "And the one missing thing was real Italian food."
By real Italian food, Filippo meant the kind of traditional home style cooking his family had taught him back in Montreal.  "I was raised on homemade dishes made out of ingredients bought fresh every day, by my mother and aunts," says Filippo "and when I decided to open a restaurant here I had to serve exactly the same food that I loved so well as a child."
Filippo named his new eatery Tiny Italy. That was partly a nod to his childhood in Montreal's Little Italy and party because, until recently, only ten customers at a time could sit comfortably inside the boutique-sized restaurant. Tiny Italy now features a beautiful outdoor patio—the first of its kind in the downtown area. "We convinced city hall that a patio will help bring people into the downtown area. We're only a short walk from the waterfront and a lot of people strolling along the boardwalk now stop here for an alfresco meal or dessert."
Unlike most restaurants, Tiny Italy's kitchen is located at the front of the restaurant in plain view of every patron. "I want my customers to be able to see what I'm doing. There are no microwaves in my kitchen.  Every salad, panini sandwich or pasta dish is made fresh when it is ordered."
Filippo shops for fresh ingredients every morning but he only buys what he needs for the day. "I don't like seeing food getting stale overnight in the fridge so I try to buy exactly enough for what I'll need that day." The result is authentic home-made pastas, panini sandwiches and Italian desserts equal to the Little Italys of any big North American city.
In his quest to keep things authentic, Filippo admits to being just a little bit stubborn.  For example, you won't find Caesar salads on his menu. "Some people ask for Caesar salad but I won't make it because it isn't authentic Italian food. The Caesar was invented in Mexico," Filippo points out. "Instead I offer my customers real Italian salads like Panzanella (bread and tomatoes, Tuscan style) or a Fennel/Orange salad (Sicilian style)."
For a similar reason, Filippo does not serve North American style coffee in Tiny Italy. "We serve only expresso, cappuccino or an Italian style latte," Filippo says.
Some well-meaning people have suggested to Filippo that he should try offering a more Canadianized menu to cater to a wider audience but he laughs and shakes his head. "If I did that, my regular customers might stop coming back here because they appreciate getting something different and authentic."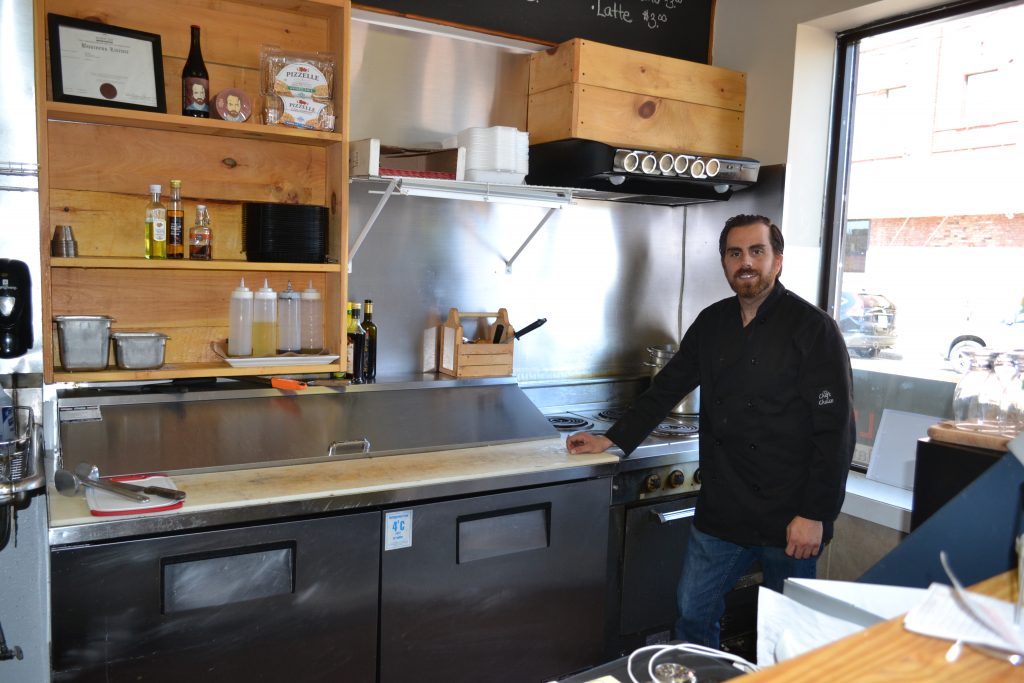 In many ways, Tiny Italy's loyal patrons seem as particular as the chef. They are not daunted by the fact that Filippo only offers one style of pasta per day, with a choice of just two sauces—usually a tomato-based and the other a cream-based. They are equally philosophical if they arrive late one day and find that the special of the day has already been sold out. It's the risk they seem willing to take for quality.
Besides salads and pasta, another Tiny Italy customer favourite are panini sandwiches prepared with a choice of roasted chicken, seasoned steak, meatball, veal parmesan or Italian cold cuts served on a toasted ciabatta bun. "We sell a lot of panini sandwiches here," Filippo admits. "They're inexpensive and make a great sit-down meal, or even better for a fast take-out lunch or dinner."
Finally, there are the mouth-watering traditional Italian desserts strategically displayed under glass right as you walk in the front door. Like everything else on the menu, the tiramisu cake, biscotti cookies, stuffed cannoli rolls, and gelato ice cream are made on-site by Filippo himself.
Besides eat-in and take-out meals, a sizeable part of Tiny Italy's business is now catering. "We've done lots of weddings, birthday parties and business meetings," Filippo says, "but recently we've even started catering for movie crews who have come up north taking advantage of this area's old buildings and beautiful scenery."
More good news is that Tiny Italy is about to become less tiny. "We're hoping to expand in the near future once the permits and approvals come through," Filippo says. "It's still the same site, same food, just with more tables and space."
Tiny Italy is located at 6 Main Street South, in Callander just outside of North Bay.
Contact them at (705) 494-8668.