Timmins is a city full of unique getaway options – a place bursting with outdoor adventures, festivals and cultural events. Although the economy here has been based on natural resource extraction, the city is working hard towards being more sustainably-minded and and taking an eco-friendlier approach to things.
Tourism is at the forefront of those goals and it's not hard to have an eco-friendly getaway in the city of Timmins today. Although many visitors are here in the summer, winter is a magical place in Timmins with endless piles of white fluffy snow, an epic hockey tournament, and lots of indoor fun. To make your trip planning a little easier, we've put together a Winter Weekend itinerary!
Friday
Check-in: Check into your cozy room at Cedar Meadows Resort and Spa, complete with fireplace and jacuzzi tub. Although this resort isn't officially eco-certified, they are committed to putting their best foot forward in terms of sustainability. Lighting throughout the resort is in the process of being converted to 100% LED, installed soap and shampoo dispensers have replaced the sample sized bottles and guests are asked to recycle their towels, rather than ask for new ones each day.
Outside, a solar hot water tank is responsible for heating all the pools, in-floor heat and the spa buildings. Perhaps the best part about staying here is that you don't have to sacrifice luxury to feel good about doing your part to support the environment.
Evening: If you're in Timmins November 26th & 27th, head to the McIntyre Community Centre for Hockey Night in Timmins. A special game is being played featuring NHL alumni to kick off the Rogers Hometown Hockey Tour!
Saturday
Morning: Head to the greenest building in the city, the Timmins Public Library at 320 Second Avenue. Built in 2005, the library was constructed with locally manufactured products, using wood as the main structural material, thus reducing construction waste and making efficient use of an abundant local natural resource. The building it currently rated at 3 Green Globes for its efficient use of resources and sustainable development.
Afternoon: Spend the rest of the day enjoying free activities put on by the Rogers Hometown Hockey Tour at the McIntyre Community Building. Activities include live music, autograph signing events, circus shows, trivia, games and more. Make sure to grab a bite to eat from one of the local vendors that are on-site!
Dinner: Return to Cedar Meadows Resort and Spa for dinner at the Voyageur Dining Room. A dimly lit and rustic setting awaits you, as does a menu featuring local and natural ingredients. The Dijon-crusted Ontario rack of lamb is always a great choice, as is the prime rib which is only available on weekends. With all menu items prepared fresh daily, these stunning meals will delight anyone's taste.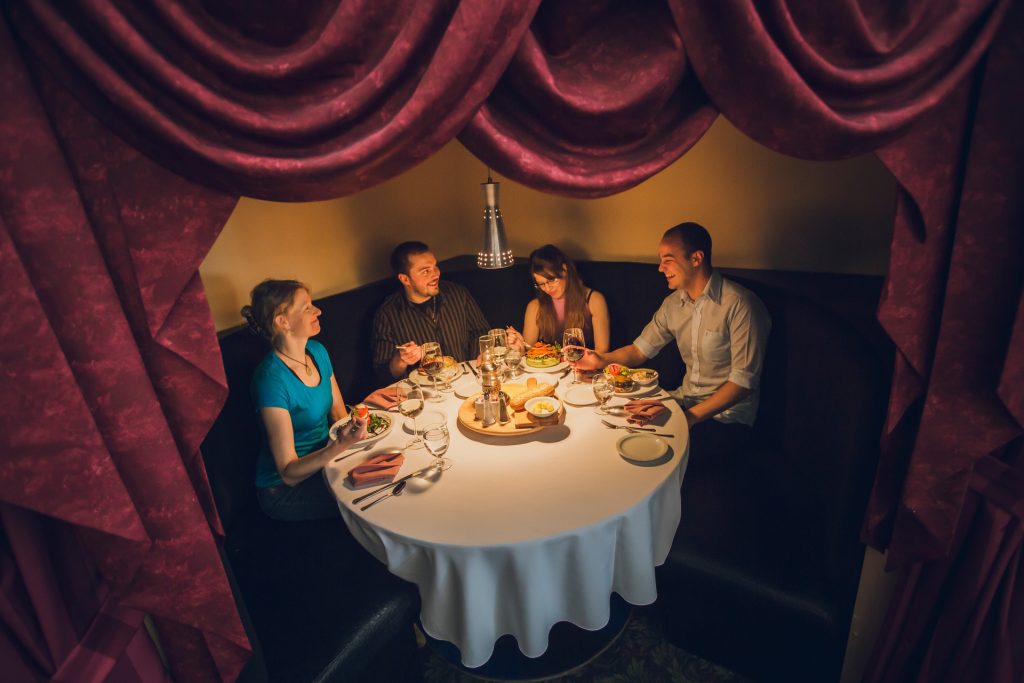 If you aren't too full from dinner make sure to check out the Nordic Baths located at the resort. This experience of alternating hot and cold baths helps get rid of toxins and is truly a natural detox that will leave you feeling relaxed and ready for bed.
Eco-friendly Fun Fact: the heat source for the sauna and steam baths heat are biomass gasifying boilers which burn wood, but create a smokeless burn making is much better for the environment.
Sunday
Morning: Head out for an early walk along some of the beautiful trails that surround the resort. Check out of Cedar Meadows in the afternoon and proceed to the Timmins Museum National Exhibition Centre, where admission is free! Visitors to the museum will be treated to local historical exhibitions featuring artifacts from the gold rush, as well as rotating exhibits from across Canada.
Afternoon: After learning about local history, head back to Cedar Meadows for their ever popular public wildlife tour. Tickets are distributed on a first come, first served basis so we suggest arriving before the 3:00 pm start time. A tractor drawn wagon will take you into the incredible wildlife park that Cedar Meadows has established. Moose, bison and elk call this 100-acre park home and the tour guides do a fantastic job explaining how humans can interact with these creatures in their natural habitat. If you're lucky, the owners on hand will tell you their favourite wildlife stories including one about a baby moose and a banana.
Ins and Outs 
Fly into Timmin's Victor M. Power Airport via Porter Airlines or take the Ontario Northland train. Once in the city use public transit, your own two feet, or consider renting a car to get around.
---
Visiting in the summer? Make sure to pay a visit to WildExodus for all your summertime needs including glamping and yurt accommodations, as well as an abundance of outdoor activities that include fishing, paddling, guided tours and more.