Any kayaker or paddleboarder understands the impulse to take to new lakes and rivers wherever possible, and it wasn't long after I arrived in Killarney Provincial Park that I was paddling through a wilderness paradise in a state of zen-like calm. One of my favourite travel guides, Lonely Planet, rated Killarney Provincial Park as one of the finest kayaking destinations in the world and, after also paddling the park's pristine lakes on a standup paddleboard, I predict Killarney's ranking as a first-class SUP destination is soon to follow.
Anywhere in Killarney it seems that you're pretty much guaranteed a gorgeous paddle. Sitting on the immaculate north shore of Georgian Bay, Killarney Provincial Park encompasses a series of enchanting lakes, scenic Georgian Bay shorelines, and one of the largest freshwater fjords in the world. Killarney's gorgeous pink granite slopes, white quartzite cliffs, shimmering pine forests and magnificent birch trees once inspired Group of Seven artists, now drawing outdoors lovers seeking a true wilderness adventure. Magnificent bears roam Killarney's rugged peaks and hardwood forests, and a glimpse of these majestic creatures from the sanctuary of the park's sapphire waters is enough to enchant even the most jaded explorer.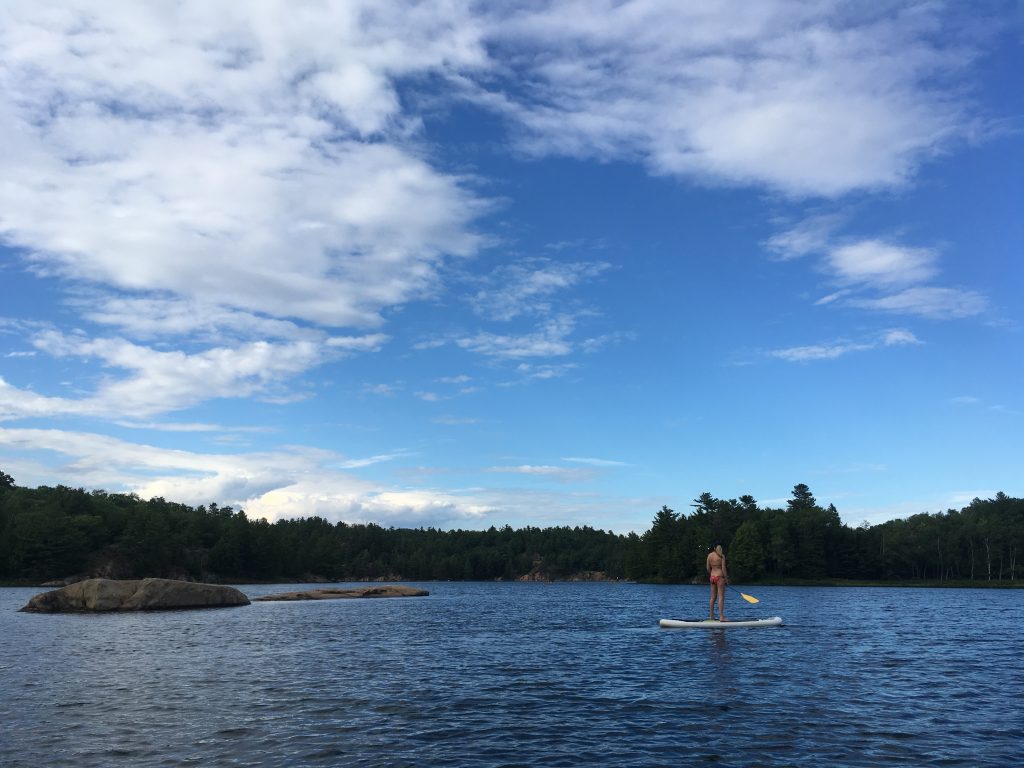 Graceful George Lake
I've kayaked and paddleboarded Newfoundland's Bay Bulls, Grand Bend's Lake Huron and Arizona's Salt Lake, and I have to say that George Lake in Killarney was the most tranquil and majestic paddling experience I've ever had. Calm and peaceful, I felt I had this small but mighty lake to myself. George Lake is located beside the park's singular campground (Killarney is primarily a wilderness park) allowing campers effortless access to its clear, calm waters.
George Lake is the perfect place to try SUP or kayaking for the first time. The lake is protected from wind so the water is surprisingly warm and glorious, and the scenery is postcard perfect. Even when the summer sun gets eclipsed by clouds blown in by northern winds, being out on the water here evokes a truly extraordinary connection to the elements.
Walking on Water
Stand up paddleboarding (SUP) is a relatively new sport in Killarney Provincial Park, and whether you bring own your own board or rent one locally, Killarney Park is the perfect place to walk on water. One of the world's fastest growing watersports, SUP is easy to learn, affordable, and a great workout for people of any age (side note: if my 60 year old mother can SUP, so can you).
The cold, clear waters of Georgian Bay offer spectacular kayaking and SUP. George Lake is an especially idyllic spot to go paddleboarding since the water is calm and warm, and the scenery is alluring. For more of a swell, be sure get out on the expansive shores of Georgian Bay.
Killarney Outfitters
Thanks to Killarney Outfitters, kayaks and SUPs are available for rental in Killarney Park, and they're super handy to pick up lakeside. You can choose from two sizes of SUPs, both designed for beginners. Honestly guys, these boards are foolproof. They're easy to launch and really easy to stay balanced on. Beginners can paddle on their knees to start, take breaks and relax on the board, and even hop in the water for a swim.
Getting access to a kayak or SUP in Killarney is easy whether you choose to explore George Lake, Chikanishing Creek (for access to Georgian Bay and Phillip Edward Island), Johnnie Lake or Carlyle Lake. In addition to kayak and SUP rentals, Killarney Outfitters also provide all-inclusive sea kayak trip planning and outfitting packages.
Whether you're exploring Killarney by kayak or SUP,  you'll find that the park's pristine lakes deliver you to its most breathtaking scenic vistas. Grab a paddle and get out on the water for an unforgettable summertime adventure. What are you waiting for?